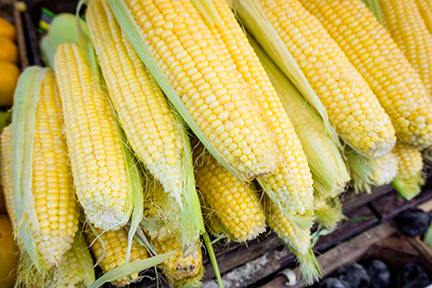 There's nothing like sweet corn on the cob. As we get into prime corn season, we're reminded that corn can be used in a variety of ways.
Although boiling is the easiest, grilling always adds a smoky depth of flavor. Pro tip: Before you grill, soak the still-husked corn in salted water for 10 minutes, then grill the corn while it's still in the husk. It brings out the flavor of the corn!
Here are three ways to turn corn into something even more delicious:
Have you had Mexican street corn? If not, you're missing out!  Want to make it picnic-friendly? Soak kabob skewers in water for a few minutes, then put the corn on the skewer. Try this recipe below:
Mexican Street Corn
6 to 8 medium ears of sweet corn, husks removed
½ cup of Mexican crema, or substitute with sour cream
½ cup mayonnaise
½ cup cilantro
1 clove garlic, minced
¼ teaspoon chipotle pepper
2 teaspoons lime zest
2 tablespoons lime juice from one line
½ cup cotija cheese, crumbled
Grill sweet corn.
While the corn is grilling, in a medium bowl mix crema, mayonnaise, cilantro, garlic, chipotle pepper, lime zest and juice and cotija cheese. Set aside.
Once the corn is finished, place on a plate. Brush the mixture on top of the corn. Serve immediately.
Another corny idea…
Ina Garten, aka "The Barefoot Contessa," has a great way to use corn in a Jalapeno Cheddar Cornbread recipe. But we tweaked it by adding in fresh corn. Although fresh is always best, you can actually grill some corn now and use it at a later date. Cut it off the cob and put it in a freezer bag. Be sure to allow the corn to cool before moving it to the freezer.
Jalapeno Cheddar Extra Corn Cornbread
3 medium ears of corn, prepared and removed from the cob
3 cups all-purpose flour
1 cup yellow cornmeal
¼ cup of sugar
2 tablespoons baking powder
2 teaspoons kosher salt
2 cups of milk
3 extra-large eggs, lightly beaten
½ pound (2 sticks) unsalted butter, melted, plus extra to grease the pan
8 ounces aged extra-sharp Cheddar, grated and divided
⅓ cup chopped scallions, white and green parts, plus extra for garnish, 3 scallions
3 tablespoons seeded and minced fresh jalapeno peppers
Preheat oven to 350 degrees. Grease a 9-by-13-by-2-inch baking pan.
Prepare corn as you like. Remove from corncob. Set aside.
In a large bowl, combine flour, cornmeal, sugar, baking powder, and salt.
In a separate bowl, combine milk, eggs, and butter.
With a wooden spoon, stir the wet ingredients into the dry until most of the lumps are dissolved. Don't overmix.
Mix in 2 cups of the grated cheddar, scallions, jalapeno, and corn. Allow the mixture to sit at room temperature for 20 minutes.
Pour batter into prepared pan. Smooth the top, and sprinkle with the remaining grated Cheddar and extra chopped scallions.
Bake for 30 to 35 minutes, or until a toothpick comes out clean. Let cool and cut into large squares. Serve warm or at room temperature.
And here is our last corny idea if you want something quick to make for a side…
This is a great go-to recipe that's light and refreshing. Pro tip: Although it's tempting to not add salt, it's needed to help elevate the flavors of the ingredients.
Corn Tomatoes and Avocado Salad
3 medium-sized ears of corn, cooked and cut from the cub
1 pint halved cherry tomatoes
1 avocado, diced into ¼ inches
½ cup finely diced red onion
1 medium green pepper, diced
1 medium jalapeno, diced
2 tablespoons olive oil
1 tablespoon fresh lime juice
½ teaspoon grated lime zest
¼ cup cilantro, chopped
¼ teaspoon salt
¼ teaspoon pepper
In a large bowl, add all the ingredients. Mix together and serve. This dip pairs extra well with corn chips.
Just think–there are thousands of other ways to use corn! Visit our market to see all types of corn we have, including non-GMO Mirai bi-color corn. We're open Monday through Saturday from 8 a.m. to 6 p.m. and Sunday from 10 a.m. to 4 p.m.
https://orrsfarmmarket.com/wp-content/uploads/2020/11/Orrs_WebHeader_2020-1.png
0
0
Orr's Farm Market
https://orrsfarmmarket.com/wp-content/uploads/2020/11/Orrs_WebHeader_2020-1.png
Orr's Farm Market
2019-08-26 14:30:12
2019-08-19 10:46:35
Let's get a little corny!