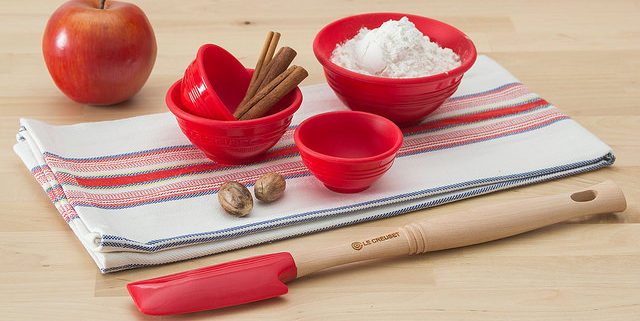 Bakers don't need a reason (or a season) to bake, but fall brings out a special zest for all things sweet. The fall is the peak season for harvesting apples, pears, and pumpkins, while the cool, crisp air allows for those sweet treats to cool off quickly. Here are a few of our favorite recipes if you're ready to enjoy fall flavors even if you are a budding baker.
Two-Ingredient Apple Pie Cups
A new spin on a classic favorite, these apple pie cups are sure to bring a smile to everyone who takes a bite! These cups take no time to make, are 100% vegetarian, and are easy to share with the whole family. Bring them to your next big family get-together if you want to be the star of the show.
What you'll need:
1 can of Pillsbury refrigerated flaky cinnamon rolls with buttercream icing
1 1/3 cups of apples for filling, coarsely chopped
Steps:
Heat oven to 375°F. Spray 8 regular-size muffin cups with cooking spray. Set icing aside. Separate dough into 8 rolls. Press into and up sides of muffin cups.
Spoon two generous tablespoons of apples into each cup, filling into each dough lining.
Bake 14-18 minutes or until golden brown. Allow to cool in pan for 5 minutes.
Transfer icing to small microwavable bowl. Microwave uncovered on low (10%) 8-10 seconds or until thin enough to drizzle. Place rolls on serving plate, spoon icing over rolls. Serve warm.
For fresh, organic apples, check out our market to make your apple pie cups as healthy and decadent as possible!
*Recipe Courtesy of  Pillsbury
Pumpkin Bread
With Halloween just around the corner, there are pumpkins everywhere – so why not have some in your bread? This next recipe takes just five minutes to make and would last you weeks if you could just contain yourself! Pumpkin bread is perfect for your morning toast, to spice up your lunch sandwich, or as a tasty after-dinner treat! Check out this simple recipe for some festive pumpkin bread.
What you'll need:
2 Cups Libby' Pure Pumpkin
3 cups Sugar
1 cup Canola or Vegetable Oil
⅔ cup Water
4 eggs
3⅓ cups Flour
2 tsp. Baking Soda
5 tsp. Salt
1 tsp. Ground Cinnamon
1 tsp. Ground Nutmeg
Steps:
Mix Pumpkin, Sugar, Oil, Water, and Eggs in large mixing bowl until well combined.
In medium mixing bowl, combine Flour, Baking Soda, Salt, Cinnamon, and Nutmeg. Stir well, then gradually pour into large bowl of pumpkin mixture. Stir well to combine completely.
Spray TWO 9×5 Non-stick Loaf Pans with Pam Cooking Spray.
Pour mixture evenly into loaf pans.
Bake at 350 degrees for 45 – 55 minutes, or until done and a toothpick inserted in center comes out clean. Enjoy!
*Recipe Courtesy of SERVPRO
And if you haven't had enough pumpkin after all of that, come check out our pumpkin patches, open seven days a week! Get more information from our website.
S'Mores Cookies
What's the best kind of snack to have around a cozy bonfire? A s'more! Don't want to brave the chilly weather just to have a delicious fall snack? Try these s'more cookies! Perfect for family nights, kids' sleepovers, and celebrating a home-team win, you'll love how tasty and easy it is to make these little delights.
What you'll need:
3/4 cup butter, softened
1/2 cup white sugar
1/2 cup packed brown sugar
1 egg
1 teaspoon vanilla extract
1 1/4 cups all-purpose flour
1 1/4 cups graham cracker crumbs
1/4 teaspoon salt
1/2 teaspoon baking soda
1 1/2 cups semi-sweet chocolate chips
2 Hershey bars, chopped
1 cup mini marshmallows
Steps:
Cream together butter and sugars; mix in egg and vanilla.
Add flour, graham cracker crumbs, baking soda and salt. Mix until smooth.
Stir in chocolate chips and chocolate chunks until well combined.
Drop by heaping tablespoons onto cookie sheet about 3 inches apart.
Bake at 375 degrees for 8 minutes. Remove and quickly press marshmallows into cookies. Return to oven and cook until done, about 3-4 minutes.
*Recipe courtesy of ChocolaTess
Don't feel like making all of these sweet treats? Come on down to Orr's Farm Market and check out our bakery! You'll find fresh baked goodies all season long, including all of the above delicious desserts. You can even order specific items for pick-up in our store! Call 304-263-1168 or send a message to place your order now!
https://orrsfarmmarket.com/wp-content/uploads/2017/10/Baking.jpg
427
640
Orr's Farm Market
https://orrsfarmmarket.com/wp-content/uploads/2020/11/Orrs_WebHeader_2020-1.png
Orr's Farm Market
2017-10-25 13:39:26
2017-10-25 13:39:26
Orr's Favorite Fall Treats