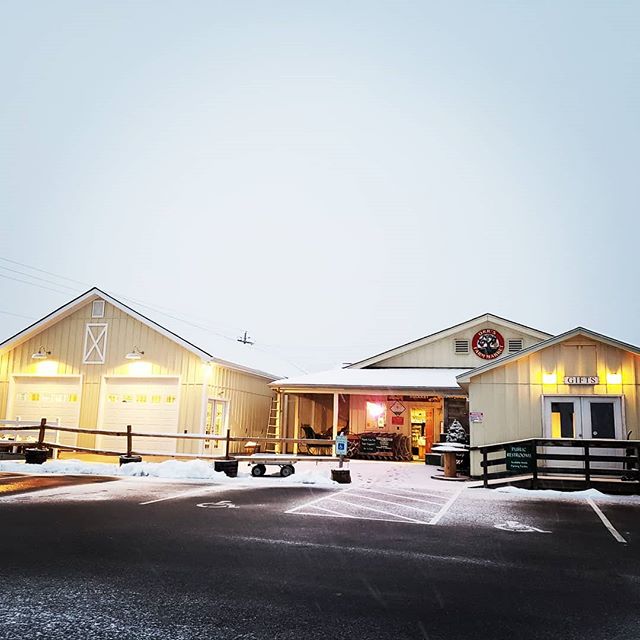 Many customers ask us every year what we do during the winter months.  We love that customers are curious about the seasonal operations on our farm. The seasonality of the farm is definitely one of the reasons farming appeals to so many folks.  The daily grind at most jobs just seems never-ending and after a few years, employees tend to feel stale.  However, at Orr's nothing ever stays static for long! Here's some of the jobs going on in the farm market right now.
This winter we've been working on some indoor market projects.  With our market addition going up right at the peak of harvest last year, there was a lot of organization that got placed on the back burner.  Most people don't realize just how difficult it is to change things mid-season.  With a staff of about 50 people during the busy season…we have to have our work areas very organized and labeled so our seasonal staff can find items they need.
Staff training usually occurs this time of year as well.  We attend yearly trainings on first aid, farm safety, tractor, forklift, and managing employees…just to name a few!  Our supervisors have a lot of time to talk this time of year and discuss changes we'd like to see over the course of the year.  Once the season moves to being open 7 days a week, we don't all see each other as much as we'd like to discuss our ideas.
A new register (or Point of Sale) system has also been a very large project that we've been working on for over a year.  This project took a year of research, a year of set up, and the past two months we've been learning how to checkout customers.  We had purchased one machine to learn on and now we're working on switching out all of our registers to the new models.  This is a great job for the slow season, because we have to have time to make sure all of our products are set up correctly.  So far we're loving all of the options and reports this register provides.  We'll be able to have lots of fun with coupons and promotions once we get rolling!
Searching out fun new items we would like to carry, and placing orders is a big job from January through March.  We have several new lines of garden items and décor coming in every week right now.  All those items have to be entered into our new Clover Station and put up in the store.  Even with the new space, it never feels like we have enough room!  A few of the new products are WV made foods that we're excited to bring into our market.  Our staff goes out to other markets throughout the tri-state region looking for foods that we don't already carry.  I'm going to be posting some of these new items on our social media sites…so stay tuned!
Our staff love the slow season because they have more time to form relationships with you and your family.  It's nice to have time to stop and chat and find out what items you are loving.  However, we feel the spring moving in on us soon, and we can't wait to feel the sunshine on our shoulders.  Hope to see you at the market soon!
https://orrsfarmmarket.com/wp-content/uploads/2019/02/50428430_10156601942954475_770992864954941440_n.jpg
720
960
Katy Orr-Dove
https://orrsfarmmarket.com/wp-content/uploads/2020/11/Orrs_WebHeader_2020-1.png
Katy Orr-Dove
2019-02-21 11:01:57
2019-02-26 18:00:14
What Happens On A Farm In Winter? Part 1: The Market