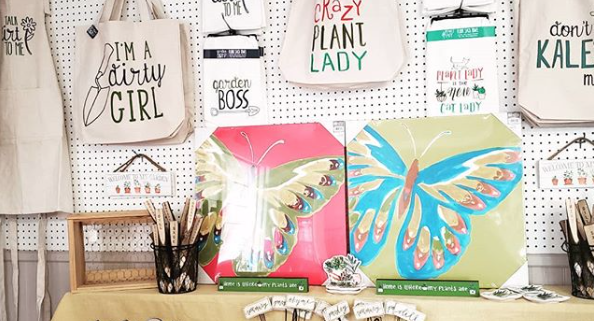 Farm life can be hard, but for all the blood, sweat and tears we put into the land, it rewards us with its bounty. As farmers, it's our job to take care of the land, but we can't do it alone.
Monday, April 22, is Earth Day, which reminds us to be kind to Mother Nature and she will be kind to us. In celebration of all what Earth has given us, we've come up with some tips to be a little greener this year. Don't be overwhelmed. Just start out with one suggestion at a time.
Try at least one of these this year:
• Reduce, reuse, recycle. Try opting for a reusable water bottle instead of buying a plastic bottle. Recycle plastics so they don't get into the landfill. Think creatively on re-using something instead of throwing it away.
• Bring a reusable bag when you shop. Looking for a cute bag? We have options at the market.
• Change your lightbulb. Make sure you have a more energy-efficient bulb that will last longer and not be a strain on your energy bill.
• Conserve water. On a farm, we know how valuable water can be for our crops, flowers and animals. Don't let the faucet run while you're doing dishes. Only do full loads of wash. Limit your time in the shower. And those leaky faucets? Fix them. 
• Plant a tree. Trees are good for the environment. They help clean the air and save energy.
• Go paperless. It only take a few minutes to change your bills into e-bills, which will reduce the cost of using paper — and save some trees.
•  Start a garden. Learn how important it is to get our hands into the dirt, and watch something grow from a seed. Encourage your children to help in order to make the next generation love the Earth as much as we do.
• Take a hike. Fall in love with nature again. Take a hike or bike on a trail. Plan a family day at a nearby park.
Be sure to come visit us, learn about what we do and shop a little. We're open Tuesday through Saturday from 10 a.m. to 5 p.m., and Sunday from 10 a.m. to 4 p.m. 
https://orrsfarmmarket.com/wp-content/uploads/2019/04/Screen-Shot-2019-04-03-at-2.07.09-PM.png
594
594
Orr's Farm Market
https://orrsfarmmarket.com/wp-content/uploads/2020/11/Orrs_WebHeader_2020-1.png
Orr's Farm Market
2019-04-14 14:00:50
2019-05-08 11:33:50
Celebrate Earth Day with these Tips